Sustainable garden awards and workshops
16/09/2020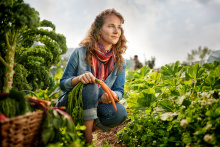 The Sustainable Garden Awards recognise and celebrate the importance of sustainable gardens and landscapes in our City's urban environment.

Award nominations can be submitted across three categories—residential, commercial and community—and are open from 21 September to 30 October 2020.

Draw inspiration for your own sustainable garden from our series of workshops, webinars, tours and a special plant giveaway!
For more information, visit: Sustainable Garden Awards 2020