Pianos return to the parks!
22/09/2020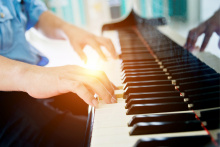 For the fourth year in a row, we've collaborated with piano specialists Leaver & Son, to bring music to the City of Norwood Payneham & St Peters!
Sometimes pianos have been so well-loved that for a number of reasons they cannot be restored or resold, but they still have some tunes left to play.
Rather than leave these ivory keys unused, Leaver & Son have carried out a small amount of work and delivered one to Richards Park and another to Linde Reserve for everyone to enjoy!
This year, children from both Margaret Ives Community Children's Centre and the Council's St Peters Child Care Centre & Preschool have used their creative flair to decorate the pianos.
If you spot one of the pianos, why not stop and tinkle the ivories!
Image: Richards Park, Margaret Ives Community Children's Centre design
Share your photos and videos on social media and be sure to tag the Council @cityofnpsp and Leaver & Son @leaverpianos
Related content