Swimming Centres reopen in October
19/10/2020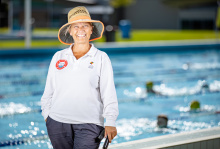 Have a splash as the weather warms up at the Norwood and Payneham Memorial Swimming Centres.
Our outdoor Swimming Centres feature:
shaded lawns and BBQs
hot showers
convenient opening times
kiosk
lap swimming (online booking required)
swimming lessons.


2020–2021 swim season dates:
Payneham Memorial Swimming Centre: 10 October 2020 - 28 March 2021
Norwood Swimming Centre: 24 October 2020 - 11 April 2021.
Please note: Due to State Government physical distancing restrictions as a result of the COVID-19 pandemic, the Council now requires all lap swimmers to book a lap lane spot online prior to attending a swimming centre.