Draft Smart City Plan - have your say!
12/10/2020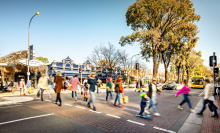 The Council is seeking your comments on the Draft Smart City Plan and invite you to have your say!
Smart City consulting experts, Delos Delta, were engaged to develop a draft Smart City Plan for the Council, which will be used to inform, plan, design and accelerate the deployment of smart city technology for the benefit of the community.
For more information and to have your say, visit: Community Consultation