Mayor's Christmas Card Competition winners
17/11/2020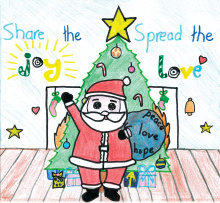 Congratulations to all of the children who participated in the twelfth Mayor's Christmas Card Competition!
Mayor Robert Bria considered all entries, awarding first, second and third prizes from each year level. The awards were presented by Mayor Bria at a reception on Thursday 5 November at the St Peters Banquet Hall.
The winning entry from each year level will be printed onto Christmas cards with the student's first name, year and their school printed on the inside of the card.
The overall winner will also have their design featured on the front cover of the Christmas edition of the Council's magazine, Look East.
The winners from each year level and overall winner are as follows:
Pre-School: Evie Neild
Reception: Alexander Jaffray
Year 1: Eadie Milne
Year 2: Hadassah Zeng
Year 3: Maria Jestin
Year 4: Evangeline Lee
Year 5: Jaynie Heng
Year 6: Lilly Woolford
Year 7: Zoe Leppa
Overall Winner: Maria Jestin.
For more information about the competition, visit: Mayor's Christmas Card Competition
View winning entries
Click on an image to view a larger size and to start slide show.