St Peters Civic Plaza and Avenue of Honour
10/09/2014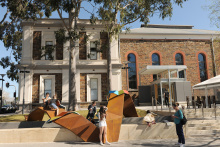 The official opening of the new St Peters Civic Plaza and Avenue of Honour, was celebrated with an official ceremony and community event on Saturday 6 September 2014.
The opening of the new St Peters Civic Plaza and Avenue of Honour marks the completion of this significant Federal Government, State Government and Council funded Project, the result of which is a new and vibrant high quality outdoor civic space and Avenue of Honour on St Peters Street, St Peters, adjacent the St Peters Town Hall Complex.
View image gallery
This third and final Stage of the 'Revitalising St Peters Precinct' Project, reflects the heritage and character of the St Peters Precinct, while generating vitality, innovation and economic development, through the creation of a new and vibrant civic space for the community.
To commemorate the Centenary of ANZAC, the Council resolved to dedicate St Peters Street as an Avenue of Honour, which leads to the St Peters Soldier's Memorial Statue, erected following the First World War.
The St Peters Civic Plaza Project also included the installation of the Council's Major Quadrennial Public Artwork, an interpretive commemoration of the Centenary of ANZAC Day in 2015, which was unveiled at the event.
Mayor Robert Bria officially dedicated the Avenue of Honour during a formal ceremony held at the Soldier's Memorial, before unveiling the Centenary of ANZAC Artwork.
To read Mayor Bria's Speech, visit: Mayor's Speeches