Reduce the risk this fire danger season
15/11/2018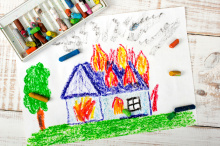 The Fire Danger Season for the Adelaide Metropolitan area starts Saturday 17 November 2018.
Residents are encouraged to prepare their properties for this fire danger season by reducing the amount of vegetation, fuel and undergrowth around the property. This is one of the most important aspects of fire prevention and preparedness.
In the coming weeks, Council staff will be undertaking inspections of any properties which have been identified as a potential fire risk. The Council undertakes these inspections in accordance with the Fire and Emergency Services Act 2005, and with the support of the South Australian Fire and Emergency Services Commission (SAFECOM).
For information about what you can do to reduce the risk of fire and Council fire safety inspections, visit: Fire Danger & Inspections
Related content