Beulah Road Bicycle Boulevard final concept design endorsed
20/06/2016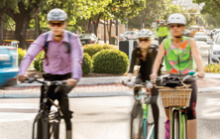 The Council has endorsed the final concept design for the Beulah Road Bicycle Boulevard.
The final concept design, which was presented to the Council at its 6 June meeting, addresses the comments and feedback which resulted from the community consultation phase of the Project.
As the highest priority route used by cyclists, Beulah Road, Norwood, is the first of the Bicycle Boulevards in the Council's City-Wide Cycling Plan to be progressed for implementation.
Related articles:
.