Historical Swing Bridge redevelopment underway
09/08/2017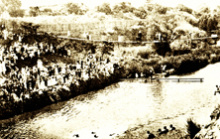 The highly anticipated redevelopment works on the Gilberton Swing Bridge are set to get underway in August 2017, with the project scheduled to be completed by January 2018.
The City of Norwood Payneham & St Peters together with project partner the Town of Walkerville, have appointed South Australian civil construction contractors, Civil Tech, to undertake the construction of the Gilberton Swing Bridge.
Mayor Robert Bria acknowledged the Swing Bridge's historical significance having been used by pedestrians for almost 100 years.
"The Gilberton Swing Bridge is greatly valued by the local community and we are therefore thrilled to announce that the construction works are commencing this month."
The initial project timeframes had been delayed due to the need to develop a design that respected the historical significance and heritage status of the Bridge, while meeting modern standards of safety and design.
For more information, visit: Gilberton Swing Bridge Project