Join the 2019 Norwood Christmas Pageant
06/08/2019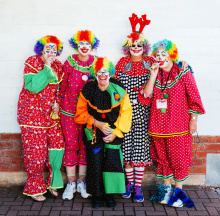 On Saturday 23 November, the Norwood Christmas Pageant is set to light up The Parade, Norwood with colourful floats, music, entertainment, including live bands, clowns, stilt walkers, puppeteers, dancers, fairies and more.
The Norwood Christmas Pageant encourages members of the local community to celebrate the spirit of Christmas and provides a wonderful opportunity for community groups, schools, businesses and individuals to participate in the festivities.
There are many ways to join the Pageant, you can borrow a costume and join a float, or enter a float, walking group or band.
For event details and to participate, visit: 2019 Norwood Christmas Pageant