Council wins innovation award
10/10/2017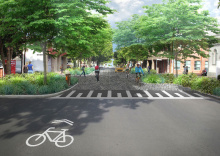 The Beulah Road Bicycle Boulevard, a key strategic project of the City of Norwood Payneham & St Peters, won an Innovation Award at the inaugural Form Innovation Awards (FIA) held on Friday 6 October 2017.
The Form Innovation Awards provide a platform of recognition for innovative design thinking in South Australia and are awarded based on the impact of the project across the criteria of innovation, contribution to the project's respective profession, and as a leading model of best practice.
"The challenges of retrofitting road infrastructure to design safer spaces for cyclists is one facing many municipalities across the globe, and the City of Norwood Payneham & St Peters is justly proud of its achievement in winning this Innovation Award," said Mayor Robert Bria.
"The design of the Bicycle Boulevard provides for safer cycling access along Beulah Road as part of the Norwood – Magill Bikeway Strategic Cycling Route."
For more information about this Project, visit: Beulah Road Bicycle Boulevard