A Rising Star
24/10/2017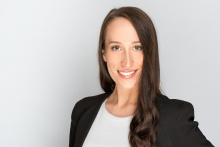 Economic Development Coordinator, Monique Warren, is regarded by her peers and our business community as a responsive, proactive and exemplary economic development practitioner. To her work colleagues, Monique is the energetic, happy and welcoming face that every workplace needs.
In October 2017, Monique received a national Economic Development Australia Rising Star Award for demonstrated leadership and excellence in economic development.
Monique has been involved in and coordinated a number of significant economic development projects and initiatives, all of which have transformed the City of Norwood Payneham & St Peters to become a leader in Local Government Economic Development.
Strong and effective working relationships with many of the City's 6,000 business owners and operators has been key to her successes in creating vibrant mainstreet precincts and delivering initiatives such as the Food Secrets of Glynde & Stepney and the East Side Wine & Ale Trail.
Exceptional organisational skills and a passion for excellence, Monique has carefully and purposefully managed these food manufacturing initiatives to the point where there are now 22 participating businesses, sell-out monthly bus tours, and recognition by Local Government in South Australia as a genuine success story in the promotion of local businesses.
For more information, visit: Media Release
To discuss your business and how the Council can support you, contact our Economic Development Coordinators by emailing townhall@npp.sa.gov.au or phone: Monique Warren 8366 4512 | Thea Petros 8366 4616.