Special Christmas edition of Your NPSP out now
06/12/2018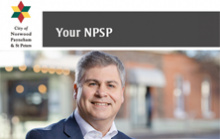 Read our special Christmas edition of Your NPSP eNewsletter and discover all that's happening in our City this festive season!
Read: Your NPSP: Christmas Edition
Your NPSP eNewsletter brings you regular bi-monthly updates about Council's events, initiatives, major projects and business activities, delivered straight to your inbox.
Subscribe now to future editions of Your NPSP. This is an opt-in subscription and you can unsubscribe at any time.