The Parade Masterplan update
10/01/2018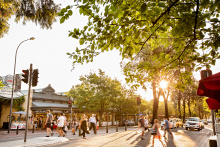 After an unintended pause in the development of The Parade Masterplan due to the State Government's investigations into the proposed EastLINK Tram extension, the Masterplan is back on track!
In early 2018, the Council will undertake its second round of consultation with the community on the draft concepts for The Parade. The draft concepts have been developed based on feedback received from the community as part of the Stage 1 consultation, where the community was asked what it loves most about The Parade, what they would like changed about The Parade and what improvements could be made.
In order to maintain The Parade's vibrancy and popularity as a destination for shopping, as well as social and cultural experiences, the Council recognised that a Masterplan would guide an upgrade of the public realm.
This, together with the new higher density residential and mixed use developments occurring in and around the Norwood area, highlighted the need to refresh and revitalise The Parade and review the qualities that give The Parade its 'sense of place'.
Once completed, The Parade Masterplan will provide the strategic design framework for the future
redevelopment and activation of this important mainstreet.
For more information, contact the Council's Acting Manager, Economic Development & Strategic Projects, Keke Michalos on 08 8366 4509.