Australia Day Awards 2018 - Citizen of the Year
07/02/2018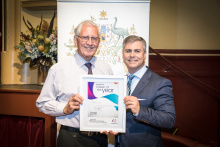 Congratulations to our Citizen of the Year, Ian Rohde.

Ian Rohde has been a proactive and influential member of the local community for over 40 years.
Throughout this time, he has been committed to improving St Bartholomew's (St Bart's) Anglican Church, Norwood, through various Volunteer roles, including lead property maintenance, service leader, secretary of the St Bart's Property Team and a member of the Parish Council.
In all of these roles, Ian has continuously demonstrated exceptional, selfless service and has been an inspirational role model to the church congregation.
His achievements at St Bart's include the organisation of countless maintenance programs and working bees to preserve the heritage of the church grounds and buildings; he has also individually undertaken a great amount of maintenance work, even during times of being unwell. Ian instigated a Men's Breakfast group which is still active after 25 years, and has run a Home Bible Study group for more than 20 years.
Ian was also instrumental in arranging for St Bart's to provide care and support for Cambodian refugee families to settle in South Australia. He personally supported many of these new families and welcomed them into the St Bart's congregation.
A long-standing resident of Glynde, he is passionate about ensuring safety and quality of life for all residents of the local area.
Ian is highly respected and appreciated by many. His selfless dedication to his church and community for more than four decades makes him an inspirational member of the local community and a worthy recipient of the City of Norwood Payneham & St Peters' 2018 Citizen of the Year Award.