EastLINK tram network
28/02/2018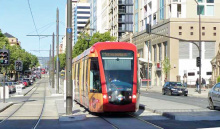 In December 2013, the Council unanimously endorsed a submission to the State Government in response to the draft Infrastructure, Transport and Land Use Plan (the Plan), which supported the extension of the EastLINK tram network along The Parade.
The Plan proposed a new AdeLINK tram network across inner Adelaide and the CBD, including:
PortLINK tram to Outer Harbor, Port Adelaide, Semaphore, Grange and West Lakes
WestLINK tram to Adelaide Airport and Henley Beach
UnleyLINK tram to the south
EastLINK tram to Norwood and UniSA's Magill Campus
PropsectLINK tram to the north
CityLINK tram loop around the CBD
To assess and evaluate the tram network, which is referred to as AdeLINK, the State Government announced (October 2016) a $4 million feasibility study into the electrification of public transport in Adelaide. This involved an analysis of the economic benefits, urban design issues and potential usage of trams along a number of different routes through the inner-rim councils, including the City of Norwood Payneham & St Peters (EastLINK).
All councils included within the AdeLINK tram network were engaged throughout the feasibility study as options for alternative tram routes as associated issues were explored.
The 30-Year Plan for Greater Adelaide was updated in 2017 to include the State Government's transport commitments, including the AdeLINK tram network.
Over the last 18 months, the Department for Planning, Transport and Infrastructure (DPTI) has facilitated a number of discussions with the Council's staff to consider the potential issues associated with the extension of the EastLINK and AdeLINK tram networks. This included developing options for the Council's consideration such as using Osmond Terrace.
In May 2017, the Council advised the Department that it opposed the tram line to be extended along Osmond Terrace to Magill Road (as recently announced), as this would make a significant impact on the existing streetscape.
The State Government's announcement on 25 February 2018 that, if re-elected, it would extend the EastLINK tram network from the East End (Adelaide CBD) to The Parade, was the first time the Council was made aware of the proposal.
To date, the Council has not been provided with any details about this proposal other than what has been released to the public.
As such, while the Council supports the EastLINK tram extension as a matter of policy and welcomes the Government's commitment to this project, it has not yet had an opportunity to consider the details of the proposal.
In the event that the State Government is re-elected, the Council will work constructively with DPTI and other key stakeholders in Kent Town and Norwood, to ensure that residents, property owners and traders have the opportunity to be heard in discussions regarding the design of the EastLINK extension.