Community
Find an Event:
Santos Tour Down Under 2020
Friday, 24th Jan 2020
6:00am — 1:00pm
The Parade, Norwood, SA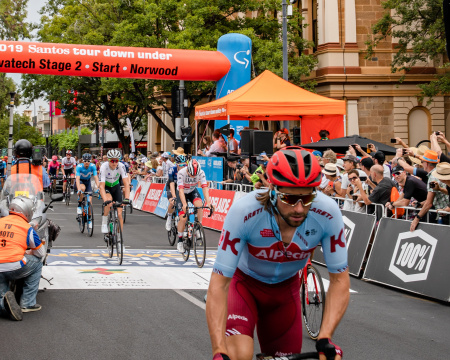 Santos Tour Down Under - Stage 4: Norwood Parade to Murray Bridge
Friday 24 January | 11:00am
From humble beginnings in 1999, the TDU has grown to be one of Australia's premier sporting events, taking the fastest men and women in the world through some of the most iconic regions of SA. It is more than just a bike race, it is a festival of cycling, with a range of associated events and participation rides that create a massive party atmosphere.
Join us on The Parade, Norwood and celebrate Stage 4 of the Santos Tour Down Under.
Mike Turtur, Race Director, Santos Tour Down Under said Norwood has remained a popular location as a stage start, with this year marking the 14th year of TDU involvement.
"Norwood provides a relaxing setting for the start of Stage 4. Given the number of years of TDU involvement, the riders know what to expect from a Norwood start and it is always great to see the crowds come out in force to cheer them on," said Turtur.
"This year we are expecting even more of a crowd as family and friends of Challenge Tour participants join the crowd."
"The race departs Norwood and continues to Williamstown which will host a sprinters stage. The King of the Mountain will be staged at Mount Torrens for the first time in Men's TDU history which will be exciting to watch."
The Santos Tour Down Under will be staged 16-26 January 2020.
CHALLENGE TOUR RIDES TO MURRAY BRIDGE
IN STAGE 4 OF THE 2020 SANTOS TOUR DOWN UNDER
The 2020 Santos Tour Down Under today announced the Challenge Tour presented by The Advertiser will be held on the fourth stage of next year's event.
Reverting back to a Friday schedule, after being held on a Saturday in 2019, the 2020 Challenge Tour will host four staggered starts along the route. The event will be held on Friday January 24, taking riders from Norwood to Murray Bridge via a host of popular towns within the Adelaide Hills region.
Race Director, Mike Turtur has designed a challenging Stage 4 of the Santos Tour Down Under not only for the professional cyclists but also for the thousands of cycling enthusiasts expected to register in the 2020 Challenge Tour.
Register now at www.tourdownunder.com.au
#TDU
Temporary road closures
Temporary road closures will be in place for the official race.
The Council would like to thank local businesses, residents and visitors to the Parade in advance for their cooperation on the days of the event.
Road closures and times to announced
Parking
Due to road closures on the day, parking restrictions will be in place.
Please take note of the road closures listed above and make alternative parking arrangements.
If you would like to explore public transport options, visit Adelaide Metro for bus services and times.
Information for local businesses
Please ensure your suppliers, customers and employees are aware of the temporary road closures and times they will be in place, and alternative parking arrangements are made.
Information for residents
Please be aware of the temporary road closures listed above and the times they will be in place.
Bus services and heavy vehicles
During the road closures, west bound traffic and bus services will be diverted along Portrush Road, Magill Road and Osmond Terrace, back down The Parade, with the reverse for East bound traffic.
If you should have any queries or concerns about the temporary road closures in place on the day, please contact the Council's Senior Regulatory Services Officer, Peter Collins on 08 8366 4619.
For more information, contact the Council's Events Team on 08 8366 4555 or email events@npsp.sa.gov.au.
Download attachment: 8853_tdu_2019_stage_2_lr_final.pdf