Community Consultation
Home > About Council > Community Consultation
Your views, ideas and suggestions are important in helping to shape the future of the City of Norwood Payneham & St Peters.
The Council is committed to effective consultation with our citizens and other stakeholders on issues which affect them. Listed below are the projects and programs we are currently seeking feedback on.
For more information on our approach to community consultation, download: Community Consultation Policy
Current consultation
Elector Representation review - have your say!
14/11/2016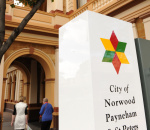 The City of Norwood Payneham & St Peters is undertaking a representation review to determine whether the Council should make any changes to the number of its Elected Members and the structure of its existing ward boundaries.
In accordance with the Local Government Act 1999 the Council has developed a Representation Options Paper which examines the various options for the composition and structure of the Council, to suit the population and demographic trends of the City of Norwood Payneham & St Peters.
Download: Representation Options Paper
The Representation Options Paper was endorsed by the Council at its meeting held on Monday 7 November 2016 and will be on public consultation from 16 November 2016 until 20 January 2017.
Alternatively, you can view the Options Paper in hard copy at the following locations:
How to have your say
To have your say, download and complete: Representation Review Feedback Form
Your feedback must be received by 5pm, Friday 20 January 2017 and addressed to Elector Representation Review, City of Norwood Payneham & St Peters, PO 204 Kent Town SA 5081 or via email to townhall@npsp.sa.gov.au

Consultation process and next steps
Following consideration of the submissions which are received during the consultation period regarding the Options Paper, the Council will prepare a Representation Review Report which documents its deliberations and endorsed proposal for the future composition and structure of the Council.
The Representation Review Report will then also be released for public consultation.

More information
Lisa Mara
General Manager, Governance & Community Affairs
T: 8366 4549
Email lmara@npsp.sa.gov.au
Previous consultation