New masterplan for The Parade
23/05/2019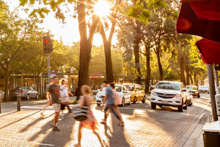 The Parade is Norwood's crown jewel—home to fashion boutiques, unique homeware and gift stores, and a vibrant café and restaurant culture among a range of other local businesses.
Over recent years the Council has progressed and implemented a number of strategic initiatives for this main street precinct such as the introduction of a planning policy framework supporting significant residential, mixed use and employment growth opportunities in and around Kent Town and Norwood.
To complement these initiatives, during May 2019 the Council endorsed The Parade Masterplan - a critical long-term strategic framework which will guide future planning, redevelopment and activation of The Parade, Norwood.
The Masterplan will be key in preserving the identity and appeal of The Parade, and inform how this significant economic, social and cultural asset will contribute value to the experiences of people who choose to live, work and play on The Parade.
Importantly, The Parade Masterplan establishes a holistic vision to direct the progressive streetscape enhancements to support local businesses, encourage new investment and maximise community enjoyment and appeal.
Some of the key improvements incorporated into the Masterplan will focus on the prioritisation of pedestrian access and movement through:
creation of safer street crossing conditions for all users through a new scramble crossing at The Parade and George Street intersection
wider footpaths along the full length of The Parade and George Street
continuous footpaths along intersections of The Parade and side streets.
Further to this, the Masterplan proposes additional street trees and landscaping with new street furniture creating more pleasant environments for our community to enjoy.
Download:
The Parade Masterplan (part one)
The Parade Masterplan (part two)
Please note: due to the large file size The Parade Masterplan has been split into two documents.
For more information, visit: The Parade Masterplan