NPSP to focus on buying recycled products
30/09/2019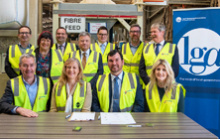 The City of Norwood Payneham & St Peters is one of nine councils that has committed to 'Buying It Back', a procurement pilot project led by the Local Government Association of South Australia.
Through the project, the nine participating councils have committed to focus their combined buying-power on purchasing products and materials with recycled content, with the aim of increasing the demand for recyclables in South Australia and creating a more circular procurement system.
NPSP has committed to:
prioritise products made with recycled materials when going through the procurement process
track the weight of the recycled materials purchased by the Council
report on the amount of products and materials with recycled content that has been purchased by the Council.
Examples of products made of recycled materials that can be purchased by councils include:
road and construction materials
street furniture
bollards
office stationery.

For more information, read the article on the LGA website: Councils commit to buying back their rubbish
Related content: