Linde Community Garden Volunteer
12/10/2020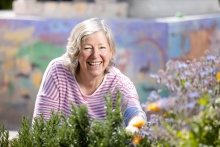 Meet Linda, a keen gardener and dedicated member of Linde Community Garden.
Linda Townsend and her family immigrated from South Africa in 1998, establishing a business in Perth before settling locally in Royston Park.
Eager to grow her own healthy produce but limited by her small, shady garden, Linda was drawn to Linde Community Garden where the community spirit is as vibrant as the fruit and vegetables are abundant.
"Members regularly participate in working bees and group lunches, and share their produce— it's a wonderful community to be a part of."
A professional and practicing artist of more than 30 years, Linda's passion for nature gives inspiration to her artistic practice.
When I work in the garden, organic shapes and forms feed my soul and the quality of the outdoor light brings life onto my canvas.
Linda also leads children from the neighbouring St Peters Child Care Centre & Pre-School through creative and nourishing activities in the garden.
Growing up amidst a bleak landscape, never experiencing a place like Linde Community Garden, Linda knows the true value such a place offers children.
"I firmly believe that for healthy development, every child should have access to a garden like this where they can grow their own fruit and vegetables, and fully interact with nature."
Nestled in Linde Reserve, Stepney, the Linde Community Garden is a sanctuary for avid gardeners to grow produce, learn from others and be part of a welcoming community.
Memberships are open to residents of the City of Norwood Payneham & St Peters.