Felixstow Reserve wins three awards
29/07/2019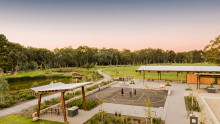 Felixstow Reserve Redevelopment has received three prestigious awards at the 2019 South Australian Landscape Architecture Awards.
The project was awarded:
Parks and Open Space Landscape Architecture Award
Healthy Parks Healthy People SA Award
Cultural Heritage Award of Excellence.
The jury commented that the project "will provide a new benchmark for developments along the River Torrens Linear Park corridor".
The project team, which included the City of Norwood Payneham & St Peters' strategic projects team in association with ASPECT Studios, the Kaurna Nation Cultural Heritage Association, Paul Herzich, Oxigen and Integrated Heritage Services, was commended for its approach to cross-cultural engagement and collaboration which the jury commented "clearly demonstrated the benefits of intentional and genuine reconciliation approaches to design."
The project team was also highly praised for its consideration of environmental sustainability, with the jury commenting that the redevelopment is "an exemplar project that highlights the power of transforming existing sites to shape greener communities in our state".
As a result of winning the Award of Excellence and a Landscape Architecture Award, the project has been entered in the 2019 AILA National Landscape Architecture Awards as a contender in the Parks and Open Space category and the Cultural Heritage category. The national awards will take place on Thursday 10 October as part of the 2019 International Festival of Landscape Architecture in Melbourne.
Watch video: Explore Felixstow Reserve