Remembering volunteer, Kingsley Turner
26/02/2018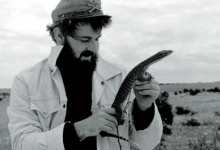 The late Kingsley Turner was a committed and passionate Volunteer with the City of Norwood Payneham & St Peters, who worked tirelessly to restore and maintain the St Peters Billabong.
In her Australia Day Award nomination, Dr Marianne Frommer stated that Kingsley's commitment to biodiversity was nothing short of inspirational. "He inspired many people with his vision of a better world. He (was) humorous, gently irreverent, generous, helpful, reliable and friendly."
With a degree in science, Kingsley tutored at The University of Adelaide prior to his work with the State Government. He had extensive experience managing native vegetation landscapes through his work with the Native Vegetation Branch of the Department of Environment.
He worked on the native vegetation restoration of the St Peters Billabong as well as conducting his own research on water quality variations in the Billabong. Kingsley also lectured TAFE SA students in adventure tourism, outdoor and community recreation, and took many students and members of the public on guided tours of the Billabong and River Torrens precinct.
Kingsley was formally recognised by the Council for his extensive and valued contributions when he was awarded the Council's 2009 Citizen of the Year Award.
In 2013, Kingsley's 20 Years of Volunteering Service to the local community was celebrated at the Council's Volunteers Christmas Dinner, where he was presented with a Bronze Medal for his services.
Kingsley also worked closely with the Council to develop a walk as part of the Council's program for South Australia's History Festival, which explored the changing nature of the River Torrens at St Peters and the impact of European settlement in the 19th century.
Sadly, Kingsley passed away in January 2017, leaving the legacy of a better St Peters Billabong for the whole community to enjoy for many generations to follow. In recognition of Kingsley and his contribution to the local community, the Council will be installing a seat at one of his favourite places. The seat will be marked by a plaque to commemorate Kingsley, the 'Spirit of the Billabong', and his significant achievements in the preservation of this special place.