Council
Find an Event:
Raising the Bar Adelaide
Tuesday, 13th Aug 2019
6:30pm — 8:30pm
City of Norwood Payneham & St Peters
Visit Website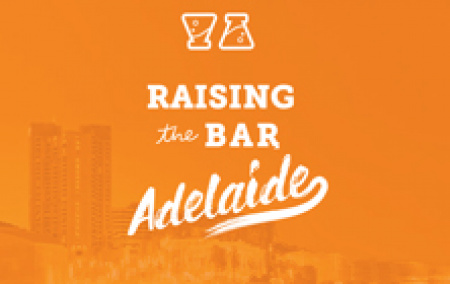 20 TALKS. 10 BARS. 1 NIGHT.
Raising the Bar is returning to our City on Tuesday 13 August.
Ten venues across the City will be transformed into spaces for learning and discussion.
There will be 20 insightful talks led by experts from South Australian universities on a range of fascinating topics, from creativity to psychology.
Free event. Bookings essential.
Tickets sell out quickly, so make sure you book as soon as possible.
To book free tickets, visit: Raising the Bar Adelaide
Venue
Speaker
Topic
Start Time
Alma Tavern
Fiona Kerr
Building new brain, a work in progress
6:30pm
Bath Hotel
Robert Chalmers
Has technology killed privacy?
6:30pm
Sam Elliott
Youth sport and parental involvement
8:30pm
Britannia Hotel
Charlie Aykroyd
There's no time to waste!
6:30pm
Duygu Yengin
Driving dollars with diversity
8:30pm
Little Bang Brewing Company
Matthew Stubbs
Laws for the final frontier
6:30pm
David Cropley
Creativity and crime: who, how and where?
8:30pm
Republic
Louise Hull
What is endometriosis and what should you do if you suspect you have it?
6:30pm (upstairs)
Wendy Ingman
What is breast density and does it matter if your breasts are dense?
6:30pm
Lenka Malek
Let's talk about flex(itarians)!
8:30pm
Alan Cooper
Out of Africa: The impacts of cold, junk food, and sex with other species
8:30pm(upstairs)
Robin Hood Hotel
Tarik Sammour
I'm a colorectal surgeon: ask me anything
6:30pm
Zac Rogers
The geopolitics of surveillance capitalism
8:30pm
Stone's Throw
Joshua Fanning
We're already living inside the matrix: the importance of computer clicks in determining our future
6:30pm
The Avenues
Jessica Grieger
Healthy eating during pregnancy: what you should be eating and what you should be avoiding…and why
6:30pm
The Colonist
Andrew Lowe
Can your protein choices really save the planet and do we all need to turn vegan?
6:30pm
Robert Adams
Sleep: the third pillar of health
8:30pm
The Maid
Tania Leiman
Law and Tech Collide: driverless cars and augmented human drivers – what are the legal implications?
6:30pm
Alexander Reilly
Global refugees: how can the nations of the world most sensibly protect refugees in the 21st century?
8:30pm
Details to come - you will see it first, here in our City – Raising the Bar Entrepreneurship! On Tuesday 1 October, the City will host the inaugural Raising the Bar Entrepreneurship event in the world, where start-ups, entrepreneurs and industry leaders will motivate and inspire up-and-coming innovators.
More information
Economic Development Unit
T: 08 8366 4555
E: townhall@npsp.sa.gov.au