We're open 24/7 online!
11/06/2020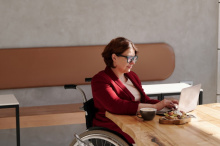 Our online services make it easy for you to do business with us 24 hours a day. Whether you are at home or on the go, you can access a range of Council services via your computer or mobile device at a time that is convenient to you.
Online services include:
make a payment
email rate notices
report a problem
hard waste collection request
For a full list of online services, visit Online Services Listing
Town Hall Customer Service Centre and COVID-19
Even if you aren't showing symptoms, we ask that you do not visit the Norwood Town Hall in person unless essential. This will help reduce the spread of COVID-19 in our community. For customer service, call us on 08 8366 4555.
For full details about delivery of Council services and programs during COVID-19 conditions, visit: COVID-19 Latest Updates